Established in 1975 as a family-owned and operated company, EPG has grown into the premier provider of Early Years and Elementary Education in Kuwait. EPG currently operates a network of 30 schools across Kuwait, giving over 8,500 children aged 9 months to 12 years the opportunity to be the best they can be.
Our core mission at EPG is to empower students to become lifelong learners and to strive for their full potential. We have created a welcoming and safe environment for children to learn, be creative, and grow into the global citizens that will shape the future of Kuwait.
EPG follows the world-renowned English National Curriculum in our schools, which we have carefully adapted to local customs, Ministry of Education requirements, and our fully bilingual approach. EPG has garnered international recognition for its efforts, earning full COBIS (Council of Overseas British International Schools) accreditation for our primary schools.
Our leadership and teaching family, currently over 700 strong, are the backbone of our company, and they are each handpicked from across the world for their exceptional experience and training. We make sure they stay at the top of their fields with our world-class continuing education and training.
Vision & Mission
EPG strategic vision is simply to enable all our children to be the best that they can be.
Our mission statements serve as a framework for the achievement of this EPG vision and our EPG values define our operating principles. Our mission statements are:
To provide affordable high-quality education, enabling children to become bilingual lifelong learners and valuable global citizens in a rapidly changing multicultural world.
To build learning communities that are safe, inclusive and collaborative.
To partner with parents to nurture the development of the world child, emphasising communication, critical thinking, creativity, collaboration, and compassion.
EPG Values
Underpinning EPG vision and mission statements are EPG values which define our behavior and conduct in all interaction with employees, children, parents, partners, and shareholders. Our EPG values are:
To promote care, honesty, tolerance, trust, compassion, and respect amongst the EPG community.

To provide contemporary learning opportunities for all stakeholders, which stimulate curiosity, inquiry, reflection, challenge, and innovation.

To nurture and support all children, so that they achieve their potential in all areas of learning: social, intellectual, physical, emotional and spiritual.

To equip children to become creative and independent thinkers, responsible citizens and life-long learners.

To provide a broad and balanced curriculum with an emphasis on learning to learn.

To develop and maintain welcoming, child-friendly facilities and environments.

To ensure that all members of the school community are valued.
Meet Our Managing Director
At The English Playgroup, you will find a stimulating and successful program of learning, playing and care, taught by the very best trained English specialist teachers.
Within the schools, there is a strong belief in children receiving a challenging and inspirational education and in developing their own talents and personalities in preparation for their future education.
Our bilingual program teaches fluency in English and Arabic through a well-structured, thematic approach to learning.
At our schools, we use the English National Curriculum to deliver the best of Early Years and Primary Education. Over the years, we have developed our own books and curriculum resources that match our student's abilities and help them progress solidly through the Foundation, KS 1 and KS 2 levels. Arabic is taught in line with the Kuwait Ministry of Education guidelines. Class sizes are kept small at our schools to ensure each child receives the attention and care they deserve and all our staff are experienced professional teachers with high standards of achievement.
Our schools provide a stimulating, creative and welcoming environment in which to learn. Our facilities, which are designed specifically with the Early Years and Primary-aged children in mind, are second-to-none and are constantly updated to stay at the forefront of Early Learning and Primary education.
I look forward to welcoming you and your children at The English Playgroup and Primary Schools.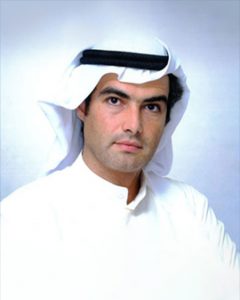 Sulayman Al – Bassam
Managing Director
At EPG, the Early Years Foundation Stage (EYFS) is a play-based adapted curriculum for children from 9 months to 5.5 years. This allows children to explore and learn in an environment that is secure and safe, yet challenging. We understand that this period in a child's life is an important developmental stage when they discover themselves and the world around them. Leadership and teaching teams in branches are dedicated and passionate professionals who embody all the values we teach children.
Aims of the Early Years programme for children:
To develop skills in spoken English and build a strong foundation of key skills for future learning.
To express their ideas freely through language, Art, Music, and roleplay in both English and Arabic.
To make friends and learn to play cooperatively, and being sensitive and caring towards others.
To be familiar with simple ICT.
To develop a positive attitude toward learning.
The curriculum is based on the Early Years Foundation Stage that consists of 7 areas of learning and development.
Prime Areas
Communication and Language,

Physical Development,

Personal, Social and Emotional Development.
Specific Areas
Literacy

Mathematics

Understanding the World

Expressive Arts and Design
Our Primary Schools are creative, dynamic places of learning where children aged 5 to 12 can hone the skills that they will need for a lifetime of learning. Our renowned English National Curriculum is delivered by a diverse group of highly-qualified teachers, and our school leaders have been carefully selected from around the world for the experience and qualifications that they bring to our schools. We are dually proud of our Kuwaiti heritage as well as our international character, and we aspire to help mold the children that will shape the future of this unique and wonderful nation.
Our primary schools continue to grow and offer parents and students outstanding services and facilities in Kuwait. EPG is privileged to be a recognized and accredited member of the Council of British International Schools (COBIS) since 2016. We are also very excited to announce that we are adding Year 6 classes in Salwa and Year 7 classes in Salmiya for the upcoming 2019-2020 academic year.
At EPG, we recognize that parents are an integral part of the learning process. We look forward to your support throughout the school year, as we strive to make our primary schools a vibrant environment where all our children can be the best that they can be.
AIMS
At EPG, we aim to be the best that we can be!  We provide affordable high-quality education
We enable children to become bilingual lifelong learners and valuable global citizens.
We build learning communities and provide safe, inclusive, collaborative environments.
We partner with parents to nurture the development of the whole child
We emphasise communication, critical thinking, creativity, collaboration, and compassion.
We value individual and cultural differences, celebrating Arabic and Islamic values.
Curriculum
Our schools offer the National Curriculum for England.  It is a balanced and broad-based curriculum comprising KS1 for 5 – 7 year-olds and KS2 for 7 to 10 year-olds.
This curriculum strives to promote the spiritual, moral, cultural, mental and physical development of children.
It also prepares pupils at the school for the opportunities, responsibilities, and experiences of later life.
Additionally, a full programme of Arabic and Islamic studies reflects the requirements of our host country.
Field trips, extended learning programmes, events, and extra-curricular activities for all ages and abilities enhance the learning experience.
Our learning support programme and Arabic as a foreign language for non-native Arabic speakers ensures access for all learners.
Sabah Salem School
Sabah Salem
65553778
PS03-SAS